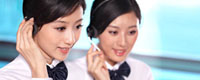 Name: Mr. Frank
Mobile: +86 13793390131
E-mail: info@abokem.com
Skype: frank.dang1
WeChat: frank9922
whatsapp: +86 13793390131
QQ: 1619729593





Product name : PAC-Poly Aluminium Chloride

Product No. : 2017710103153
Details:
PAC-Poly Aluminium Chloride
PAC-Poly Aluminium Chloride is, for short, called PAC. It is usually used in cosmetics as an antiperspirant and as a coagulant in water purification. In water purification, this compound is preferred in some cases because of its high charge, which makes it more effective at destabilizing and removing suspended materials than other aluminium salts such as aluminium sulfate,aluminium chloride and various forms of polyaluminium chloride and polyaluminium chlorisulfate, in which the aluminium structure results in a lower net charge than aluminium chlorohydrate. Further, the high degree of neutralization of the HCl results in minimal impact on treated water pH when compared to other aluminium and iron salts.

PAC has liquid and powder forms and also has different types of colors such as: brown powder, maize-yellow powder, golden yellow and white powder; colorless liquid, light yellow and yellowish-brown liquid.

Key words: PAC Solid, PAC liquid, Aluminium chlorohydrate, Aluminium chlorhydroxide, Basic Aluminium chloride, Aluminium hydroxychloride, Poly Aluminium Chloride, Polyaluminium Chloride

If you want get the
TDS
,
MSDS
,
COA
,
Price
,
Leading time
,
Packing
etc. of this Product, Plsease contact us, you will get instant response.
Email:
info@abokem.com; abokem@hotmail.com
WeChat:
frank9922
Skype:
frank.dang1
Whatsapp:
+86 13793390131